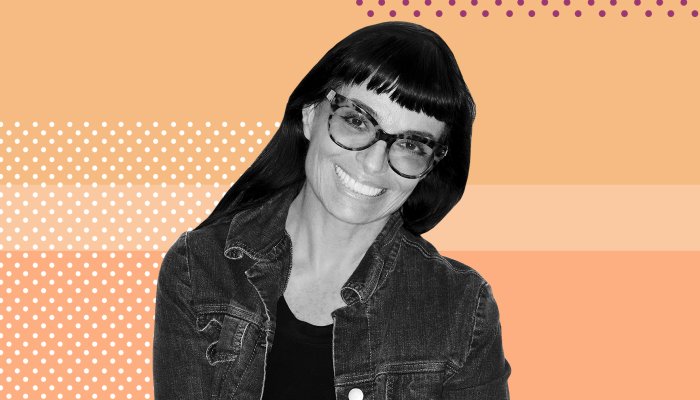 Today, my beauty style is based upon taking care of my skin. I have been following the same routine since 1993, when I decided to stop wearing foundation. When I met Horst Rechelbacher, the genius behind Aveda and an outspoken pioneer of the natural and clean beauty movement, he shared his knowledge about the suspicious ingredients in many cosmetics and brought my attention to issues within the beauty industry. Working with chemists, I developed a skin-care concept using safe ingredients that cleanse, exfoliate, moisturize, and create a glow. Since I decided to go bare and stick to an easy plan, I feel good about my skin.
Ever since Horst's reality check about the amount of lipstick women may inadvertently consume each year, simply by applying it, and its potential impact on health, I've stopped wearing my trademark red lips. I learned that nail polish was no better, so I have bare nails now, too. I accent my eyebrows and lashes, dab on some lip stain, and I feel: That's me. My ethnicity presents dark shadows under my eyes, so I use dots of highlighter as a brightener. This simple solution works best when I am eating properly, sleeping well, and working out.
All in all, I approach my personal care as easy care, same as my collection and my personal style: timeless and comfortable but fun and expressive at the same time.
I only started to wear glasses at fifty, so I designed eyewear that is flattering for most face shapes, and I have been wearing the cat-eye tortoise frames for some time. I added tinted lenses so I can use them both at my computer and outdoors. My blunt-cut bangs, which have become a trademark over time, work well with my square face. Instead of trying to nuance the shape, I am going with it! I rinse my hair every day after working out, so it needs to be a style that is easy to maintain and as close to my natural texture as possible. My hair is straight, but frizzy at the same time. I used to have it flat-ironed, but after so much breakage week after week, I gave it up, and now that it is healthy, I am letting it grow naturally. After a lot of research, I finally created a three-in-one shampoo, conditioner, and styler that tames the frizzies and keeps my hair shiny and smooth. Now I am free to take a shower, smooth in some product, and be on my way.
My question is, what works for you? What reflects your sensibility and treats each of your features as a best asset? Natural skin, groomed brows, a swipe of mascara, and bangs I trim myself is my preference. Have you found yours? 
Excerpt from the new book I AM INVINCIBLE by Norma Kamali published by Abrams © 2021 Norma Kamali